Enter details
Payment
Complete!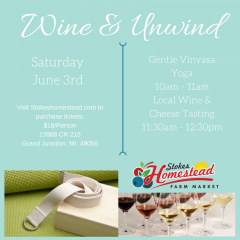 Wine & Unwind
Enjoy a Michigan Summer Saturday with a gentle vinyasa yoga class in our beautiful orchards. Followed by samples of delicious, locally-made wine & cheese pairings.
Perfect for a day-date or girl's day out! Tickets must be purchased in advance.
Sorry, no tickets are currently on sale.
Your Basket
Item
Price
Qty
Subtotal
There are no items currently in your basket

Total

$0.00