Enter details
Payment
Complete!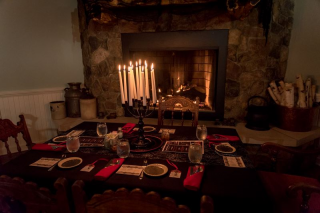 Feast & Fear Dinner
Feast on a delicious appetizer, entree & dessert served by your favorite ghosts & goblins from Shadow Hollow Haunt! Sample our locally crafted wine & beer from McIntosh Winery & Round Bar Winery during dinner. After dinner, if you dare, climb aboard our wagons for a chilling end to your evening! We'll take you through Shadow Hollow Haunt... a one-of-a-kind, live action haunted wagon ride!
Our dinner menu for the haunted evening will be crafted using our in-season produce, meats from a local butcher shop & cheese from Evergreen Creamery in Fennville. The menu will be subject to change based on what foods are available locally. The tentative menu will be available to view in August. Reservations & payment ahead of time are required with a maximum number of 50 people attending.
Cost includes: Includes appetizer, entree, dessert, apple cider, wine/beer samples, custom 9oz wine glass & admission to Shadow Hollow Haunt!
Sorry, no tickets are currently on sale.
Your Basket
Item
Price
Qty
Subtotal
There are no items currently in your basket

Total

$0.00